small is GMP approved for highly potent APIs
Nanoform's GMP facility utilises CESS® to manufacture API nanoparticles to GMP standards.
Our GMP facility is currently able to handle compounds with OEL of 1 ug/m3 and above. In H1 2023, we are expanding this offering for highly-potent compound manufacturing to handle API with OEL down to 30 ng/m3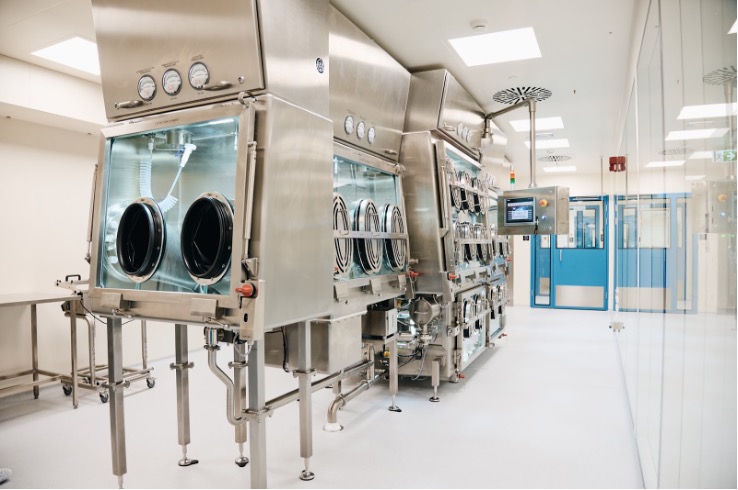 One of our three state-of-the-art GMP nanoforming suites in Helsinki, Finland.
We have tripled our GMP nanoformed API manufacturing capacity in 2023. This expansion program adds two new CESS® manufacturing suites (to OEL 30 ng/m3  containment) in class-D cleanrooms together with new GMP analytical characterization laboratories capable of handling these materials.
Recipe control via automation has been included in the new suites. This provides product quality benefits due to full recipe automation that controls the critical processing parameters providing accurate and repeatable performance. The new suites are equipped with both CIP (Clean-in-Place) and WIP (Wash-in-Place) capability, enabling faster and more efficient cleaning between campaigns, reducing downtime and increasing API productivity. Expected to be operational soon, this expansion will enable more clients to leverage the value of our technology for their clinical and commercial programs.
Read
our article
Small is Powerful: A Globally Unique Capability for Nanoforming HPAPIs
GMP certification
Our GMP activities are regularly inspected by the national competent authority, The Finnish Medicines Agency Fimea. Fimea is a member of the European Medicines Regulatory Network, which consists of national competent authorities in the Member States of the European Economic Area (EEA) working together with the European Medicines Agency (EMA) and the European Commission. Nanoform's GMP Certificate is available on the EudraGMDP Database.